Master Degree in Materials Science
Image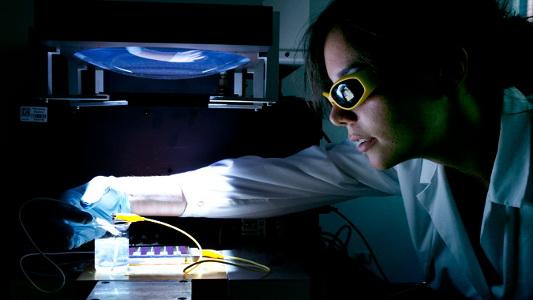 The postgraduate Master Degree in Materials Science drives the students to learning about the interpretation and the design of function vs. structure relationships in a wide class of materials, providing an underlying basis for understanding principles, applications and entrepreneurial aspects of nanotechnology.
In order to allow for an individual specialization, the program provides a broad choice of courses on specific classes of materials and their function-related structures. Besides technical knowledge, the program also focusses on acquiring competencies related to research skills and scientific communication.
Finally, the knowledge is applied and enhanced through internship and Master Thesis, which are carried out within a network of collaborations involving research groups and industrial partners. Overall, the program endeavours to create graduates with a multi-disciplinary approach in developing new pathways for research and technology innovation, with a specific view to integrate scientific and ethical perspective to the sustainability of processes and technologies in the field of material development.
The programme track comprises about 42 credits devoted to the acquisition of an advanced knowledge in physics and chemistry of condensed matter together with modelling approaches and advanced experimental techniques of materials characterization and structural analysis, with practical activities in top-level research laboratories. This part of the track is aimed at creating a general scheme for the interpretation and the design of function vs. structure relationships in a wide class of materials, giving also a basis for understanding principles, applications, and entrepreneurship aspects of nanotechnology.
The programme then includes Courses on specific classes of materials and function-related structures or applications (dealing with semiconductors, molecular materials, dielectrics, or surfaces, sustainable processes, electronic devices, etc.), with the opportunity to build up a personalized track choosing about 30 credits of a total of 90. Additional 12 credits allow the student to complete the programme with elective courses.
A relevant amount of credits (about 30% of the total) is devoted to the acquisition of important practical skills related to research ability, innovation competence, and knowledge of management topics, innovation transfer, organization planning, additional language and scientific communication. These skills are achieved by a relevant work of MSc-Thesis in a research group - often within a international network of collaborations and/or industrial partnership - involved in innovative projects on materials science and technology.
Candidates to the Master Degree in Materials Science must hold a university degree or a three-year university diploma, or another recognized qualification obtained from a foreign institution. An English language certification is also required, issued by a body accredited by the University, corresponding to a minimum of B2 level. Also undergraduates with a high competence level, but whose background is not entirely consistent with the requirements, may apply for admission. In any case, all candidates will be admitted only after an assessment interview which will focus on the candidates' knowledge of physics and chemistry.
We believe that students with a three years degree in a scientific discipline with an adequate number of credits in physics and/or chemistry and/or mathematics and/or engineering may successfully  apply to the Materials Science course.
If you want to proceed with registration, please skip to the How to Apply page and follow the procedure. You will be redirected to our online platform.
If you wish to enrol at the University of Milano-Bicocca, follow this specific procedure  which depends on your nationality and qualifications.
During the track
Students may take advantage of International mobility agreements attending Courses at European Universities within the ERASMUS+ calls. Please see the related link at www.unimib.it
During the Thesis
Master Thesis and Internship may be partially or fully carried out in European Universities through agreements within the Erasmus+ Traineeship  programme, and EXTRAEU calls for Thesis at extra-EU Universities. Please see the related links at www.unimib.it
In a Dual Degree Track
The Master degree programme in Materials Science includes student positions within the joint international programme of Dual degrees in Sustainable Materials (SUMA Master degree) with the University of Leuven (B) and the University of Grenoble (F). For details on how to apply please visit the website of the SUMA Master Degree www.master-suma.eu
Students in the Master's Degree program have the preparation and training to play roles of responsibility in the field of innovation, advanced engineering, development, qualification and diagnostics of materials, in setting up a moderately broad scientific project, and managing complex systems.
Functions
Graduates of the program will have acquired methodological and scientific competences from this course of study and will be prepared to take on roles of responsibility in the field of innovation and material development, advanced engineering, qualification and diagnostics of materials, in setting up development projects and managing complex systems.
Competences
The profile of the Master's Degree program in Materials Science is the multidisciplinary nature of the competences and methodological approach. This aspect is essential in highlevel production environments, in which it is vital to tackle the aspects related to production and elements regarding the functional design of the materials. Based on the knowledge acquired on the theoretical and scientific aspects of materials science and engineering, master's degree graduates will be prepared to identify, develop responses to and resolve complex problems with innovative thinking. Graduates will have the competences necessary to design the properties of the materials, starting with the atomic and molecular structures that comprise them. Students are prepared to conceive, plan, design and manage complex and innovative systems, processes and services, and design and conduct highly complex experiments. Graduates have knowledge of specific contexts and gain transferrable skills.
Employment opportunities
Graduates of the Master's Degree program in Materials Science will find work in manufacturing, processing and development of semiconductors, metals, polymers, ceramics, glass and composite materials for application in the fields of chemistry, mechanical and electrical fields, electronics, telecom, energy, construction, transportation, biomedical, environmental and cultural heritage; in addition, in laboratories in private industry and public and private research institutions.
Graduates of the Master Degree Course in Materials Science can apply to an advanced training course in the same scientific area, also provided by the Department of Materials Science: the PhD Course in Materials Science and Nanotechnology. This Doctorate hosts the headquarters of the European Doctorate in Physics and Chemistry of Advanced Materials (PCAM) which includes fourteen other European universities.
In order for you to fully experience Bicocca campus life, we have carefully selected the residence close to the main campus building that encourage you to not only integrate with your peers, but also with the local community. The University of Milano - Bicocca makes available at their residences (Building U12 , via Vizzola 5 in Milan and Building U22 , via Mantova in Sesto San Giovanni) some rooms destined to guest service. To book an accomodation and know costs and terms of your stay you can write to: booking.bicocca.fms.it@sodexo.com