Laurea honoris causa in Materials Science
Image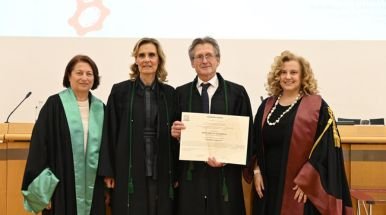 Questa mattina, nell'aula magna dell'Ateneo, l'Università di Milano-Bicocca ha conferito la laurea honoris causa in Materials Science a Bernard Lucas Feringa, premio Nobel per la chimica nel 2016 per il suo lavoro riguardante le macchine molecolari.
La cerimonia si è tenuta alla presenza della rettrice di Milano-Bicocca, Giovanna Iannantuoni, della direttrice del Dipartimento di Scienza dei Materiali, Anna Vedda e della professoressa Angiolina Comotti, presidente del corso di laurea in Materials Science, che da diversi anni collabora con il Premio Nobel, professor Feringa.
Il prof. Bernard Lucas Feringa ha tenuto la lectio magistralis dal titolo "The Art of Building Small, from molecular switches to motors", davanti a studenti e docenti di Milano-Bicocca.