Master Degree Course in Materials Science
Image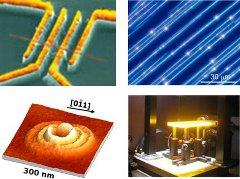 If you believe in Science and Innovation and want it to become your future job, apply now at Materials Science postgraduate Degree!
Students of the Master Degree in Materials Science build up a personalized programme of study and training, after fundamental courses on the physics and chemistry of materials, by choosing among courses on different classes of materials and technological areas, with practical activities in top-level scientific Labs, internship opportunities in industries and research groups, and a Master Thesis in teams working in international projects and networks of scientific and industrial collaborations.
The Master Degree in Materials Science also offers the opportunity to follow Dual Degree tracks and to earn the European Master Degree in Sustainable Materials in collaboration with the University of Leuven and Grenoble.
Graduate students from the Master Degree in Materials Science can take advantage of a number of complementary skills. The Master student profile is tailored for creating persons to be employed in positions of responsibility in managing advanced material design, production processes and material qualifying protocols in high tech firms, material diagnostics and analysis in industries and research centres, and material development projects and scientific research projects in the field of material science and technology innovation.