Energies at the crossroad. European and Eurasian countries in dialogue
Image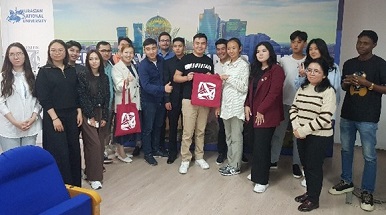 Friday 30 June marked the end of the "GEM- SILKWAY Summer School 2023" held at the Eurasian National University (ENU) in Astana (Kazakhstan). The Summer School was inaugurated by the Rector of ENU, Prof. Sydykov Yerlan Battashevich, and the Italian Ambassador to Kazakhstan, Marco Alberti.
The school focused on the socio-economic aspects of energy transition with particular regard to the situation in Central Asia and continues the tradition of the GEM (Green Energy Management) schools now in their tenth year of activity (https://gem.unimib.it/).
The Summer School was organised by Prof. Maurizio Acciarri (Department of Materials Science), Prof. Marina Calloni (Department of Sociology and Social Research) of the University of Milano-Bicocca, Prof. Silvana Stefani (Università Cattolica del Sacro Cuore) and Duman Aitmagambetov, pro-rector of the Eurasian National University.
GEM-SILKWAY - sponsored by the Italian Embassy in Kazakhstan - is part of the activities of the SILKWAY international network, of which the University of Milano-Bicocca is the leader, and which has been carrying out educational and scientific activities in Central Asian countries for years. SILKWAY has been indicated by the Ministry of Foreign Affairs and International Cooperation as an important network for the development of academic agreements in the Central Asian area.
A total of 21 students from Central Asia (Kazakhstan, Uzbekistan and Kyrgyzstan) and Western Europe (Italy and Germany) with different disciplinary skills and interests were admitted to the Summer School.
The energy transition thus becomes an opportunity to develop intercultural and interdisciplinary debates between lecturers and students of different origins, strengthening a productive dialogue between hard sciences (physics, mathematics, engineering, ecology) and social sciences (philosophy, international relations, sociology), within the new geo-political horizon, in the transformation of previous economic arrangements and changing spheres of influence, in the hope that new cross-boarder alliances will be formed and for equitable human and sustainable development.
This summer school will be followed by one also organised by the SILKWAY network in Cluj-Napoca, Romania (https://www.summerschoolbicocca.com/23-gem-silkway.php). This second school will be more focused on the economic aspects of the energy transition.