The results of the research published in ChemSusChem (Wiley)
Image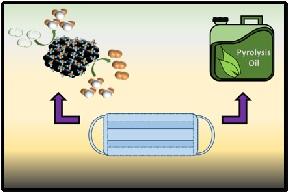 COVID-19 surgical face masks are essential personal protective equipment to stop the virus transmission through aerosol and droplets. Generally, surgical face masks are composed of non-woven polypropylene and/or polyethylene, representing potential environmental risks upon their disposal. In addition to land pollution, a considerable proportion of surgical face masks is erroneously discharged into oceanic bodies, polluting the marine environment with micro-plastic. In many countries, COVID-19 personal protective equipment cannot be recycled through the common plastic routes, being considered a biological hazard and has to be disposed in a landfill or incinerated.
How to solve the problem related to the disposal of surgical masks?
A team of researchers from the Department of Materials Science (led by Dr. Carlo Santoro, Dr. Chiara Ferrara and Dr. Roberto Lorenzi), the Department of Earth and Environmental Sciences (led by Dr. Luca Zoia) of the University of Milano-Bicocca, and the CNR - Institute of Chemistry of OrganoMetallic Compounds of the National Research Council (ICCOM-CNR) (led by Dr. Alessandro Lavacchi) proposes a new process for valorizing waste surgical masks based on their transformation using pyrolysis processes into valuable products for the circular economy and green hydrogen production and use.
The results of the research have been published on ChemSusChem (Wiley) in the article entitled "Waste face surgical mask transformation into crude oil and nanostructured electrocatalysts for fuel cells and electrolyzers" (DOI:10.1002/cssc.202102351).
Is it possible to valorize waste surgical masks? What are the products?
The proposed process consists of a high-temperature treatment in a controlled inert atmosphere that transforms surgical masks into solid char and crude oil. After adding low-cost and earth-abundant transition metals, the obtained char is ideal for building electrocatalysts and electrodes for green hydrogen generation and conversion. In addition, crude oil finds application in the petrochemical industry for automotive purposes, to produce electricity and raw materials (a feedstock) to make plastics, other intermediates and end-user goods. The transformation of waste surgical masks into materials for the hydrogen economy and sustainability defines a new strategy for circularity.